The Alfa Romeo Spider based on the 105 series was introduced by Alfa Romeo at the Geneva Motor Show in 1966 with a 1600 engine of 109 hp. The design came from Pininfarina and is without a doubt a great success; this is one of the most beautiful and iconic Alfa Romeo models ever!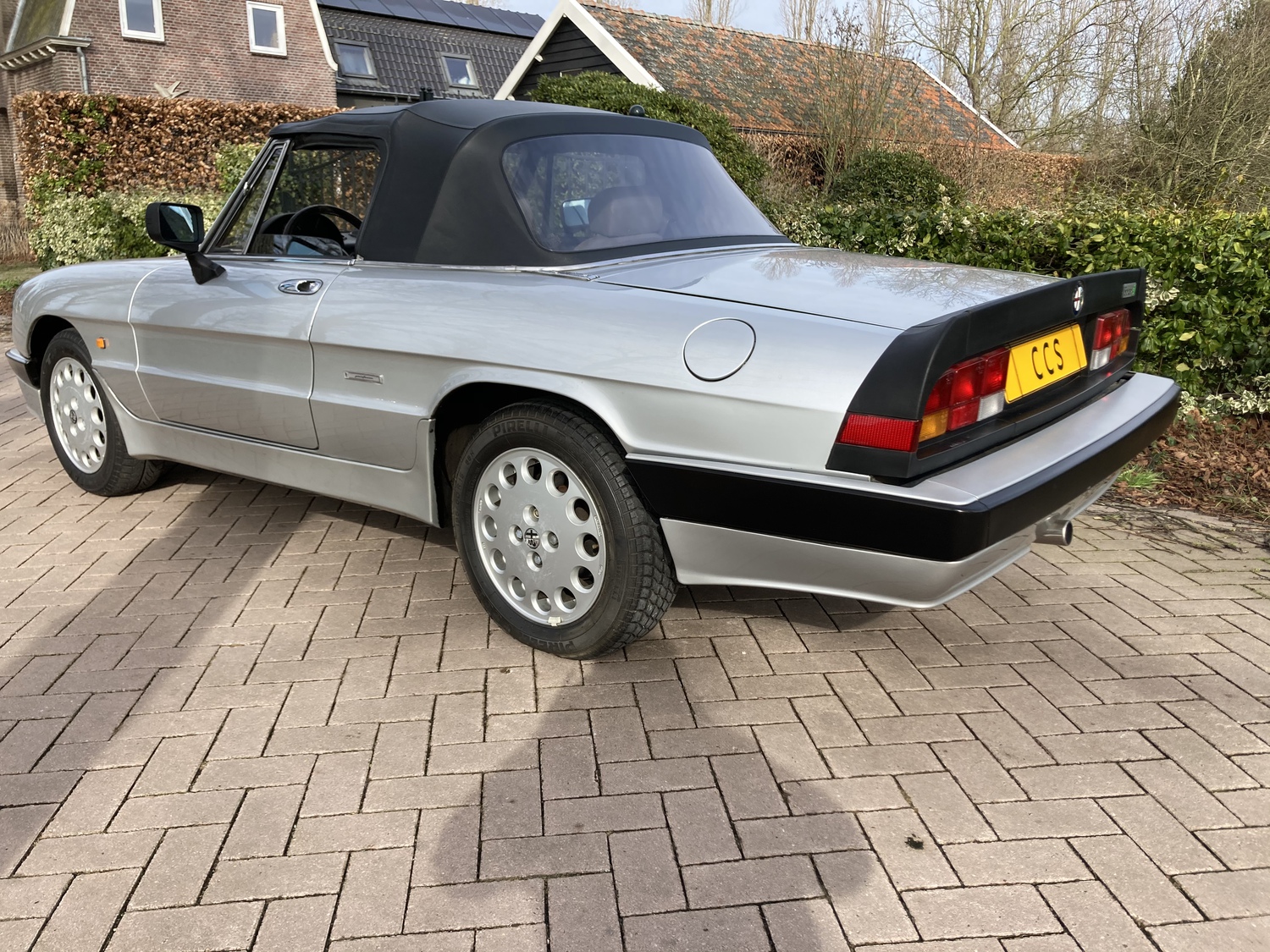 It was the last model that the master himself Batista Pininfarina drew. The spider was produced in four model versions with engines from 1300cc to 2000cc and was built for no less than 26 years. Production was discontinued in 1993. In 1983 Spider Aeodynamics or Spider 3 was presented to the public with 1600 and 2000 engines. In 1986, the car being auctioned here was presented to the public at the Geneva Motor Show: it is the Quadrifoglio Verde. It got, among other things, a front spoiler, side skirts and a new interior and light metal rims specially designed for this car. The QV is simply a bit more luxurious than its predecessors. This Alfa Romeo Spider Quadrifioglio 2.0 was sold new in the Netherlands in 1987 and was registered on July 14, 1987. This car is therefore one of the European versions with a 2 liter engine with 128 HP with double webers carburettors, the most powerful engine that Alfa Romeo ever delivered in the Spider. Not to be compared with the Spiders that are imported from America and have less powerful engines and a much less beautiful sound due to the injection system.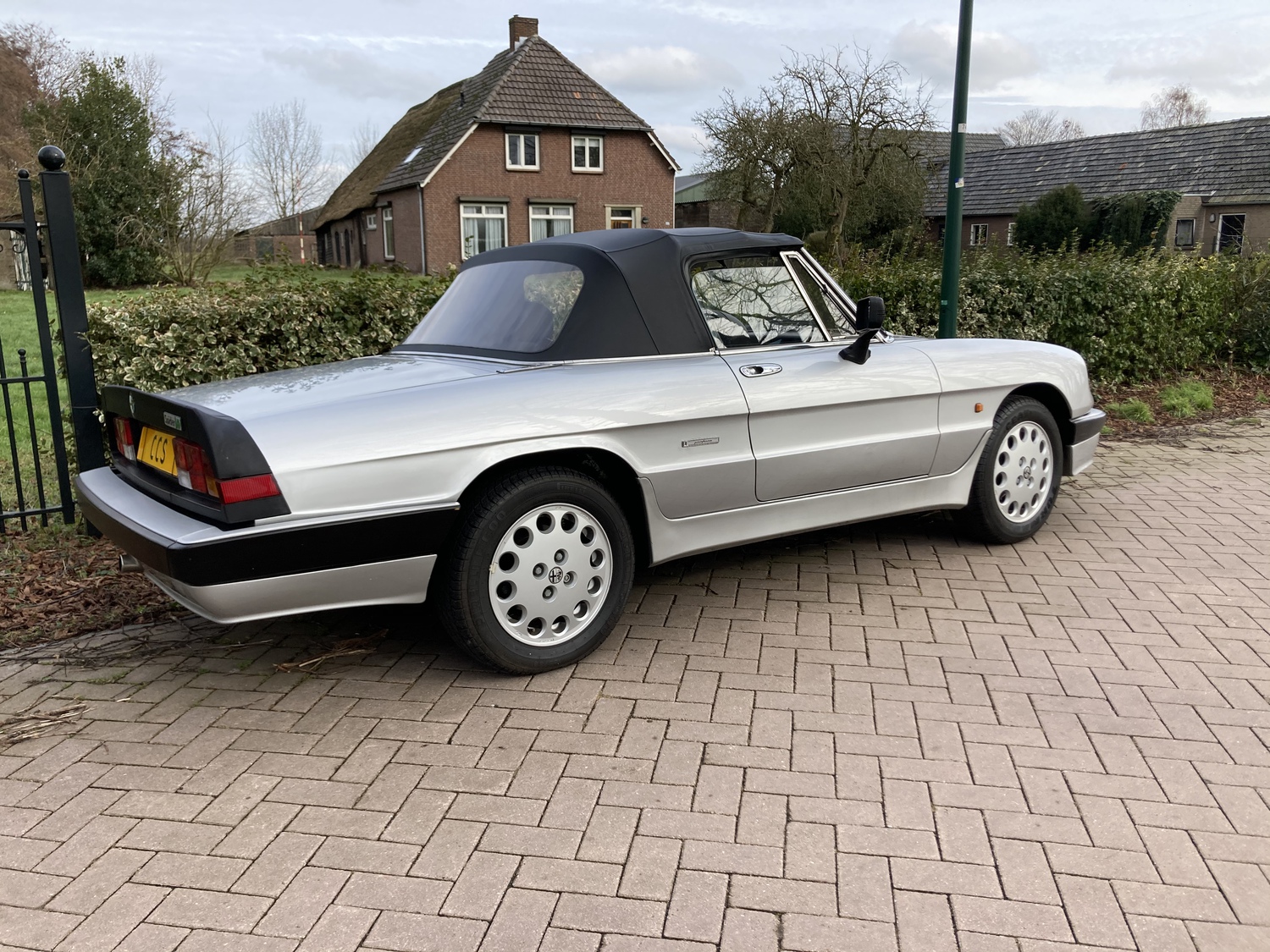 The current owner is a collector and has owned the spider for about 4 years and has barely used the car but has serviced and driven it regularly. This Spider has only 113,000 kilometers on the clock and comes with a National Car Pass. It can be clearly seen that the car has only been used in the summer and has always been stored indoors: it has no rust. The car is in good condition. The Spider stands on excellent tires in the size 195/60/15 with approx. 6 mm tread depth at the front and approx. 7 mm tread depth at the rear. The spare tire also has more than sufficient tread depth. The car comes with three original keys and a remote control for the alarm. This Spider is the Qudrifiglio Verde version, in silver gray metallic with a dark gray interior with red carpet. Furthermore, the Spider is equipped with a 5-speed gearbox, electric windows and original Alfa Romeo alloy wheels. The Spider is equipped with a stereo radio/CD player of the Kenwood brand. The seller notes that the car has some stone chips and minimal traces of use.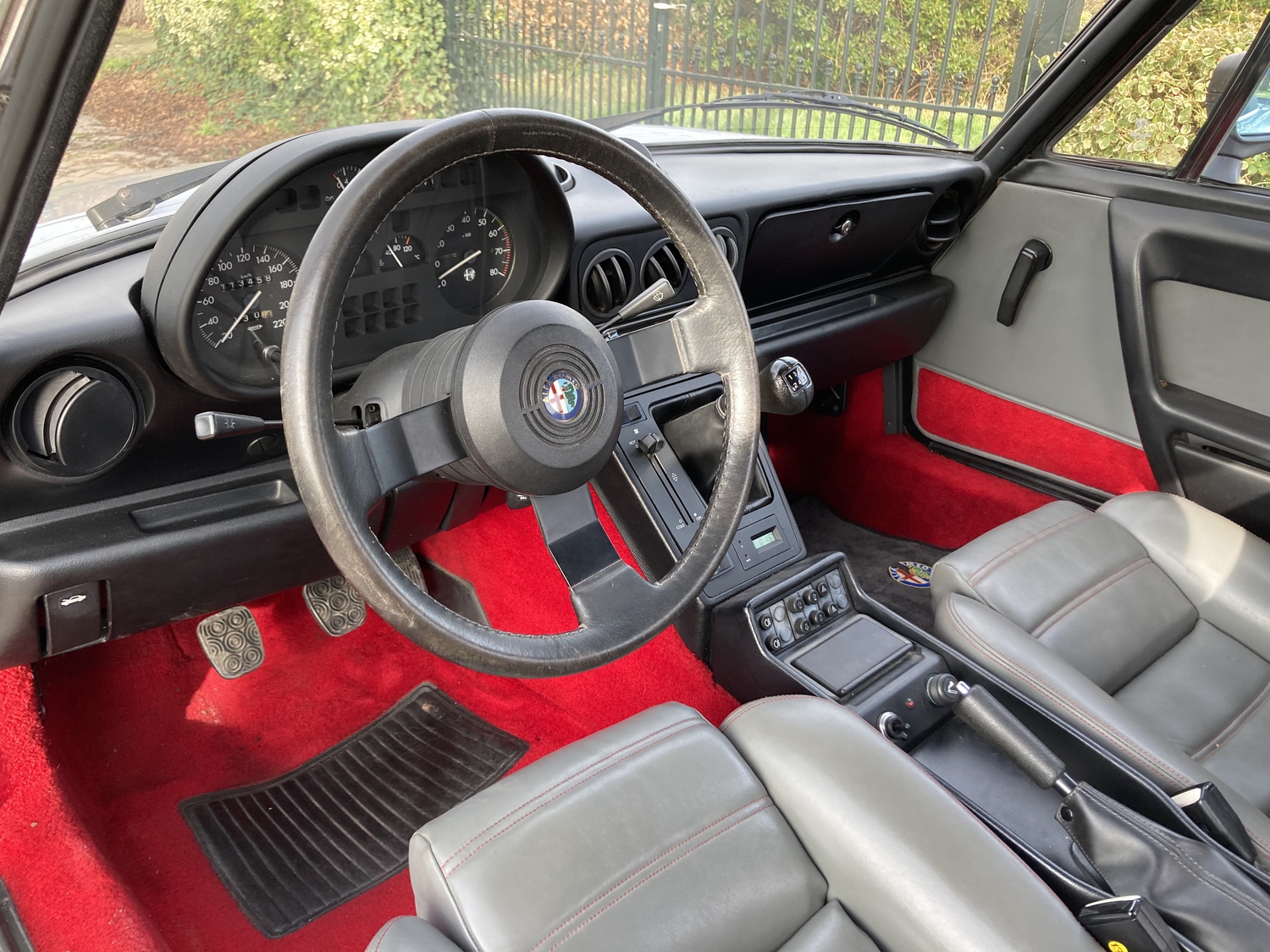 The Alfa Romeo has a Dutch license plate and can therefore easily be imported in all other European countries. The car comes from a collector and is offered as-is without any warranty. Before making a bid, read carefully the terms of use of this site, the description of this car and view all the photos and videos and the inspection report to get a good impression of this beautiful Alfa Romeo. Alls bids are binding and irrevocable! Great car for a collector or just for touring around and probably better as money in the bank! The Alfa Romeo Spiders have only become more expensive over the years and it seems that it will never end!