Dont miss this opportunity and become the new owner of this unique Shelby GT500, the Holy Grail of American muscle cars!
This GT500 Fastback is one of 1,536 units built in 1969. The 428ci Cobra Jet Ram-Air V8 is connected to the 4-speed manual gearbox (matching numbers).

Laat deze kans niet liggen en wordt de nieuwe eigenaar van deze unieke Shelby GT500, the Holy Grail of American muscle cars!
Deze GT500 Fastback is één van de 1.536 exemplaren die in 1969 zijn vervaardigd. De 428ci Cobra Jet Ram-Air V8 is verbonden aan de 4 speed manual (matching numbers).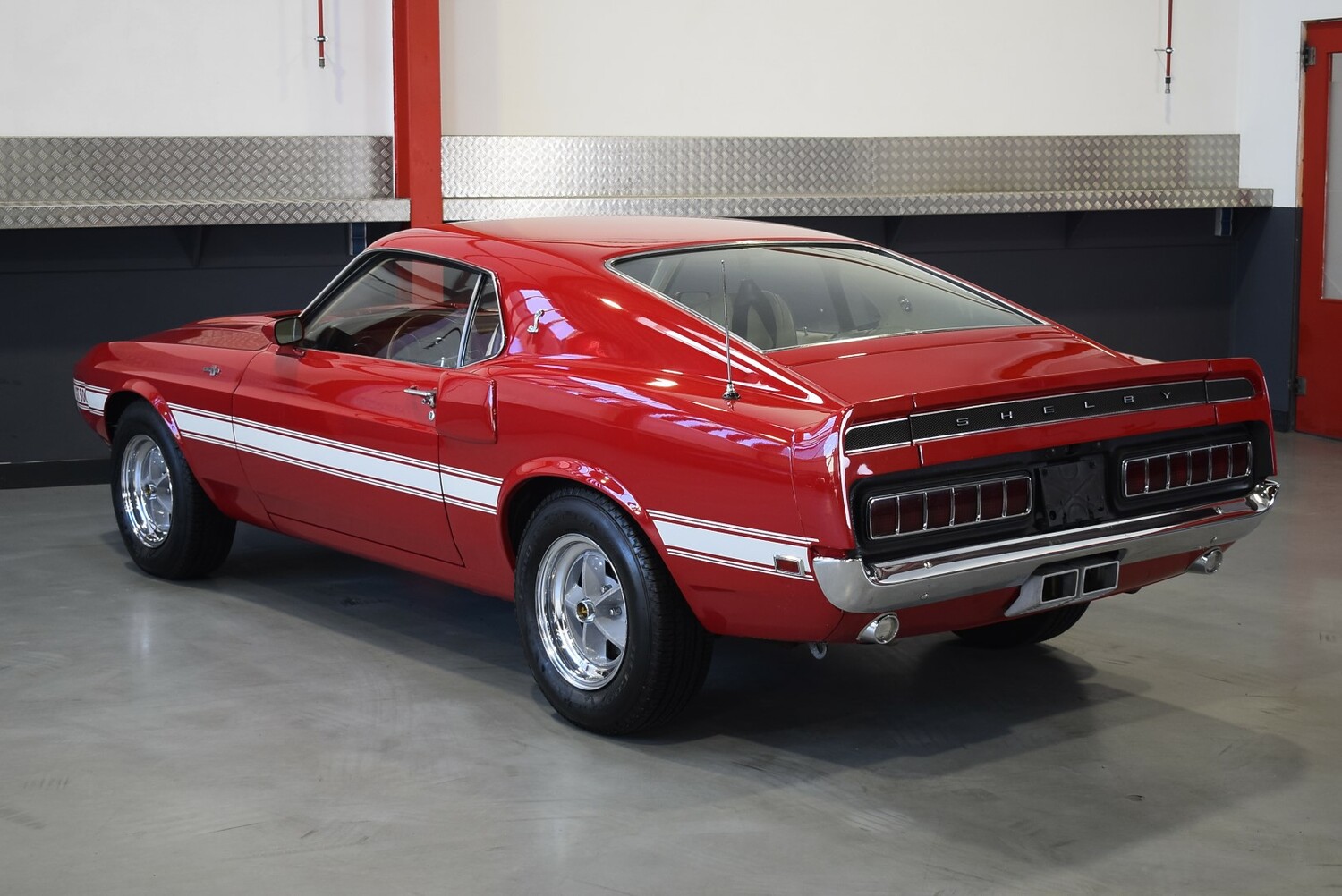 Many new functional design features were introduced with the 1969 Shelby including a Ram-Air bonnet made of fiberglass (three air intakes and two air exhausts), fiberglass front mudguards with air intakes, fiberglass Quarter Air-Scoop intakes in the rear, fiberglass Rear-Deck cover with spoiler and a new transversal exhaust system made of aluminium which is led out under the rear bumper and positioned in the centre with a dual exhaust opening.

Vele nieuwe functionele designkenmerken werden geïntroduceerd met de 1969 Shelby inclusief Ram-Air motorkap gemaakt van glasvezel (drie luchtinlaten & twee luchtuitlaten), glasvezel spatborden voor met luchtinlaten, glasvezel Quarter Air-Scoop inlaten achter, glasvezel Rear-Deck afdekking met spoiler en een nieuw transversaal uitlaatsysteem gemaakt van aluminium dat naar buiten geleid wordt onder de achterbumper en door een dubbele uitlaatopening gepositioneerd in het centrum.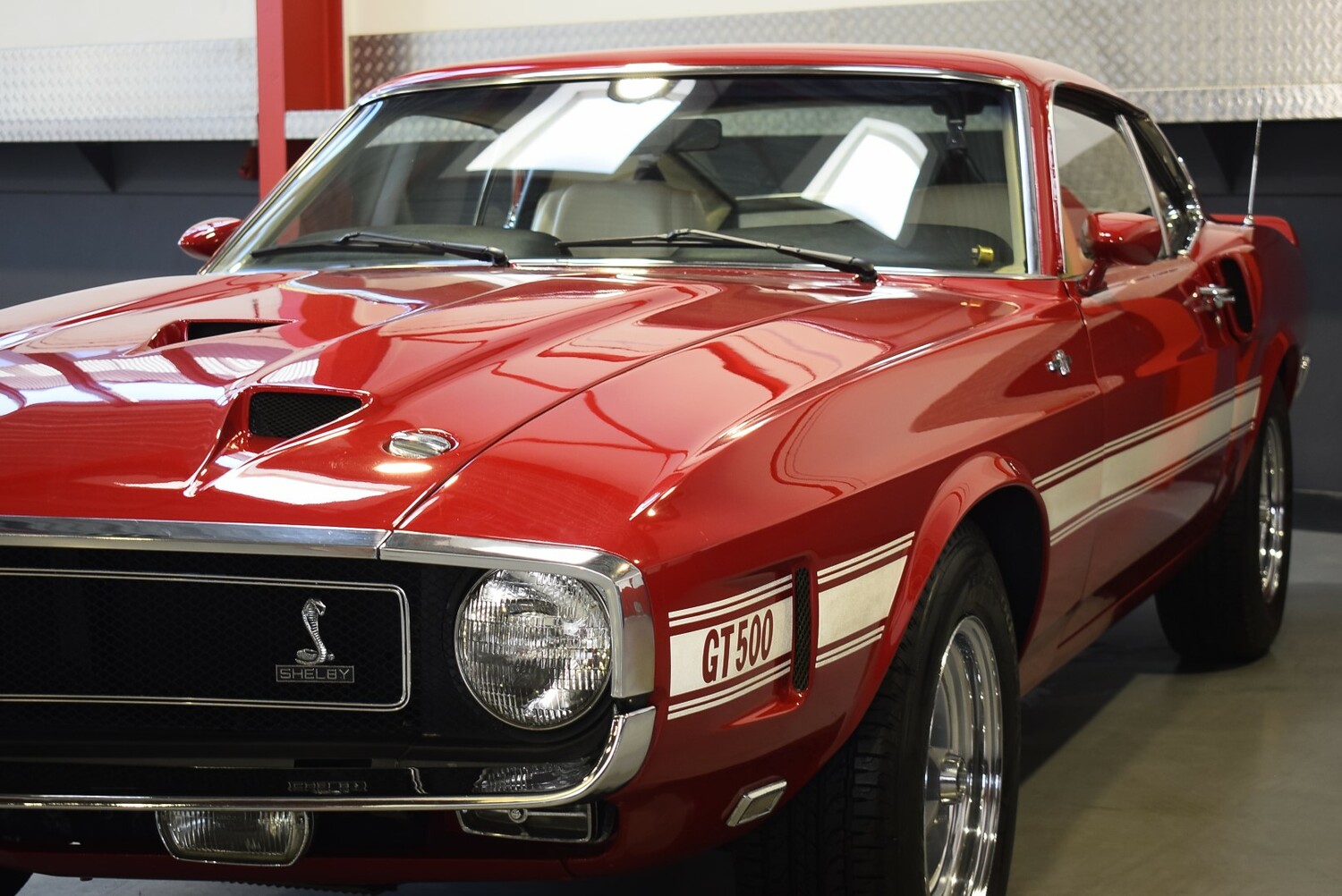 The Shelby has all of the luxury options from 1969: power steering, hi-back bucket seats, a tilting steering wheel and powerful front disc brakes. The vehicle starts immediately, shifts smoothly and powerfully through all gears, idles nicely at 800 rpm and brakes properly. This Shelby also has as good as new Radial BF Goodrich tyres, nice chrome and a beautiful Competition Red paint job.

Verder is deze Shelby van alle luxe opties uit 1969 voorzien, stuurbekrachtiging, hi-back bucket seats, een kantelbaar stuur en krachtige schijfremmen voor. De wagen start direct, schakelt soepel en krachtig door alle versnellingen heen, loopt mooi stationair op 800 toeren en remt volledig naar behoren. Deze Shelby is verder voorzien van zo goed als nieuwe Radial BF Goodrich banden, mooi chroom en een prachtige Competition Red laklaag.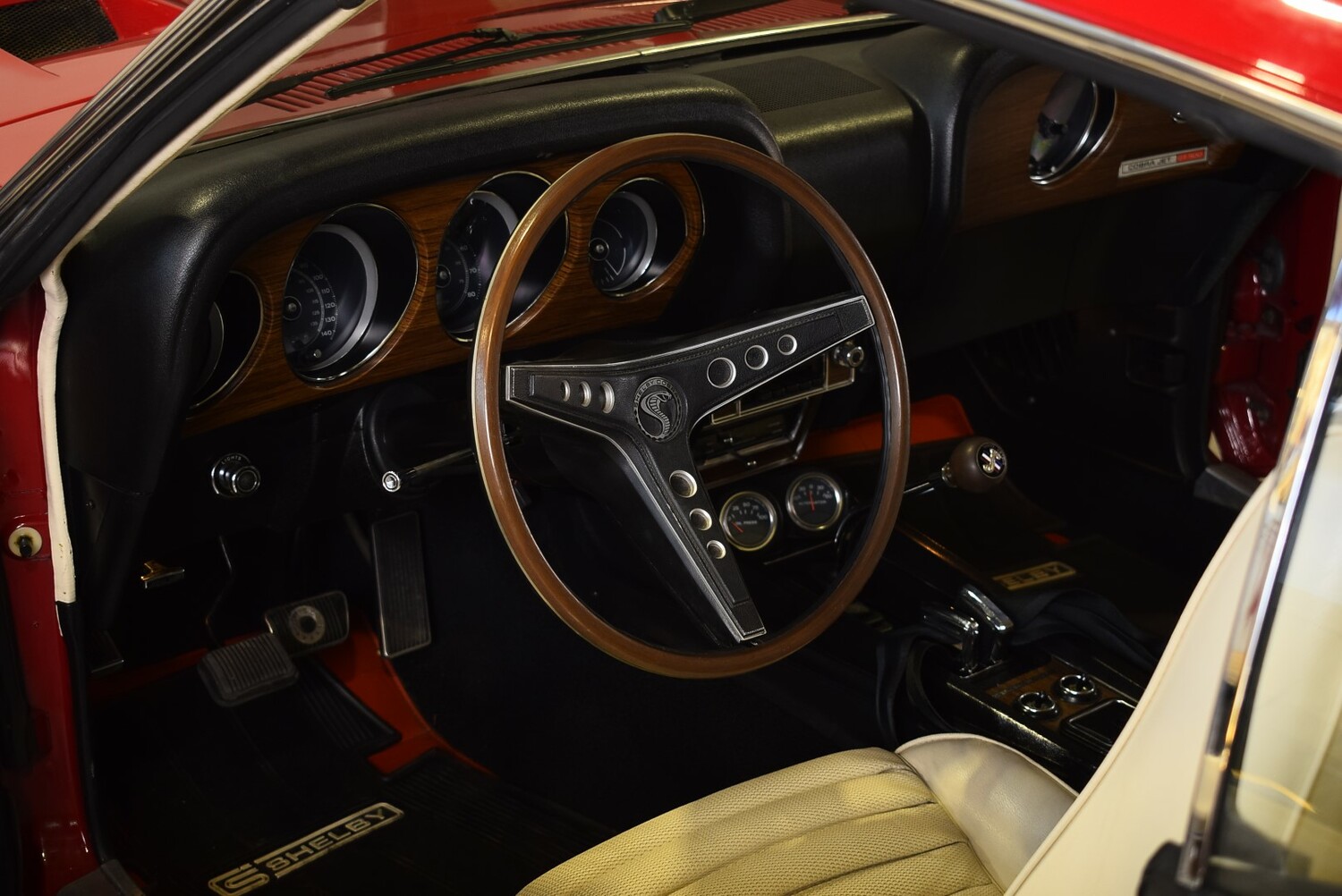 The interior is in very good condition and features the original 3WA White Knit Vinyl upholstery. Its really noticeable it was always lovingly maintained by its 3 past owners. The car was sold new in the Bay Area (California) to a Vietnam veteran who owned the car for about 15 years after which he sold it to a collector/enthusiast who exported it to Canada (with about 27,000 original miles on the counter at the time). In 2005, the car was brought back to America. The Shelby was exported to the Netherlands in 2021, it has a new Dutch technical inspection (APK) and a Dutch registration. The car currently has 31,592 miles on the odometer, it really has only been used on special occasions.

Het interieur is in zeer nette staat en beschikt over de originele 3WA White Knit Vinyl bekleding. Het is aan de auto af te zien dat deze altijd met veel liefde is onderhouden door zijn 3 verleden eigenaren. Nieuw werd de auto in de Bay Area (California) verkocht aan een Vietnam veteraan die de auto ca. 15 jaar in bezit heeft gehad waarna hij de auto verkocht aan een verzamelaar / liefhebber die de auto naar Canada exporteerde (met destijds ca 27000 original miles op de teller). In 2005 werd de auto weer teruggehaald naar Amerika waarna in 2021 de Shelby naar Nederland werd geexporteerd en voorzien van een nieuwe technische APK keuring en Nederlands kenteken (op dit moment heeft de auto 31592 miles op de teller, er is dus echt enkel op speciale gelegenheden mee gereden).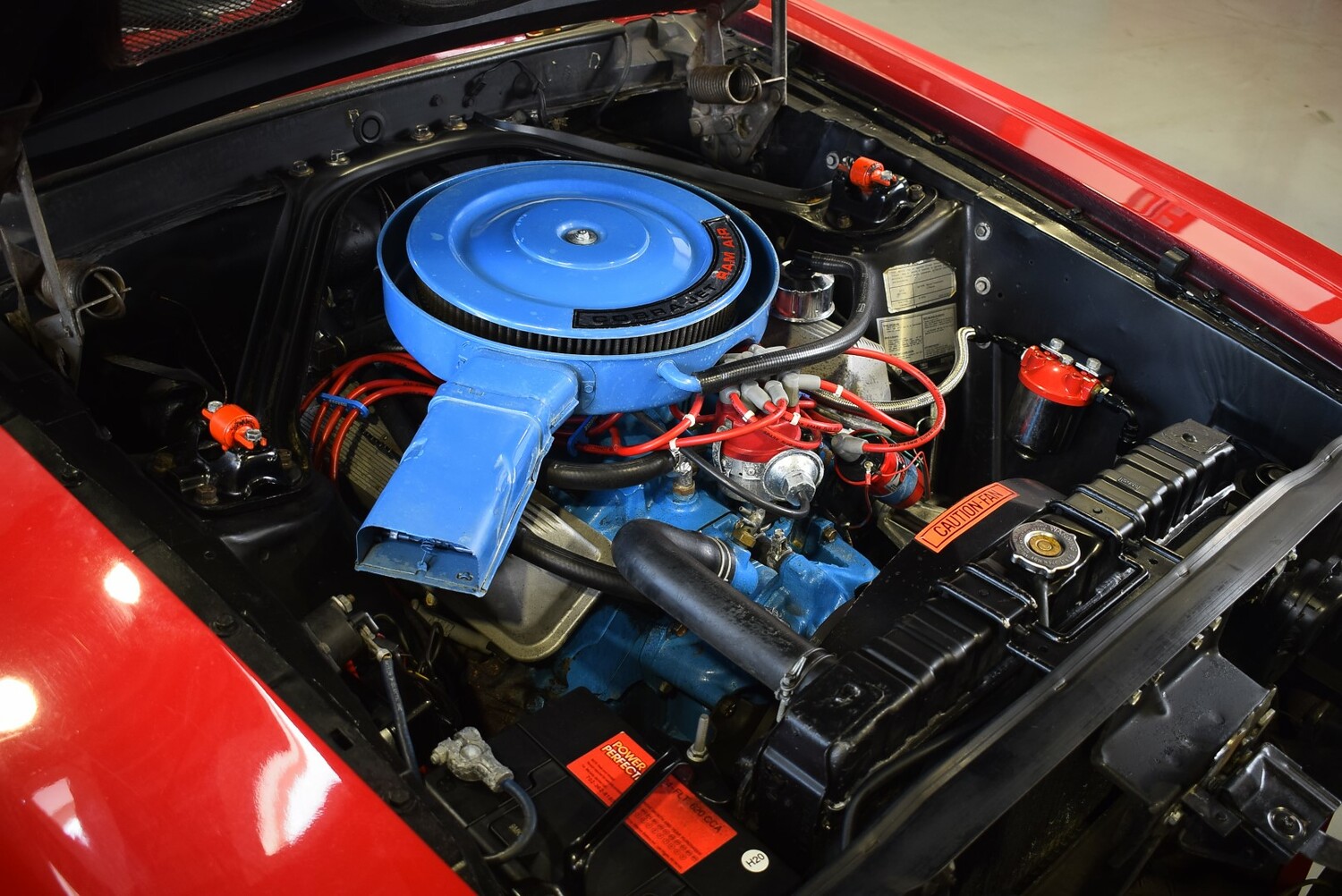 What makes this Shelby GT500 unique is that it comes with a lot of history including photos and a lot of invoices - rarely offered like this. The car comes with a Marti Report and is registered in the Shelby register.
This excellent Shelby GT500 Fastback is a great investment, dont miss this opportunity and become the new owner of this very unique muscle car!

Wat deze Shelby GT500 verder uniek maakt is dat er een hoop geschiedenis bij wordt meegeleverd, waaronder fotos en een hoop facturen, zo komt u ze niet vaak tegen. Verder beschikt de auto over een Marti Report en is de auto ingeschreven in het Shelby register.
Deze uitstekende Shelby GT500 Fastback is van beleggingskwaliteit, laat deze kans dan ook niet liggen en wordt de nieuwe eigenaar van deze zeer unieke muscle car!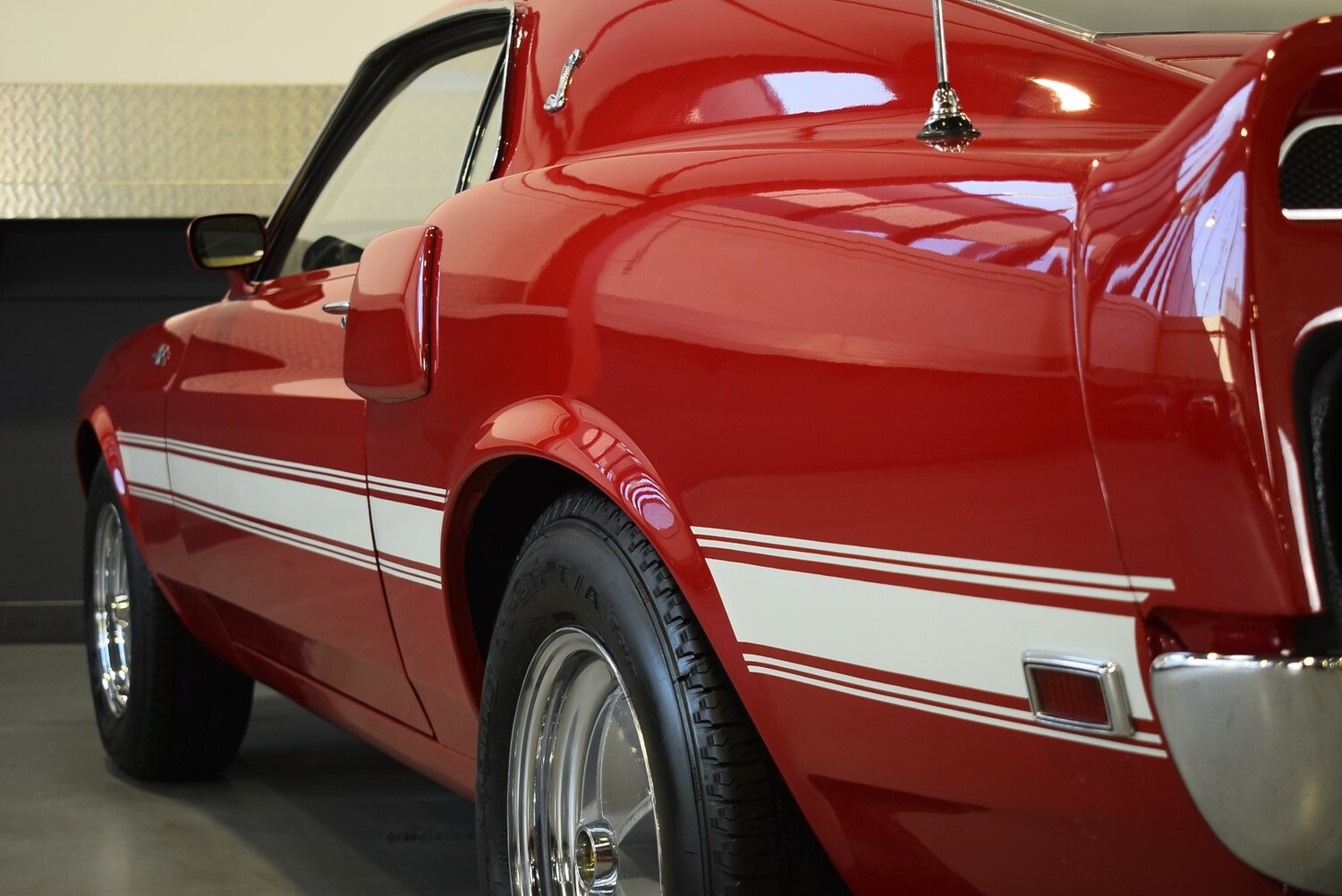 Technical information:
Shelby - GT500 Fastback 428CI Cobra Jet Ram-Air V8 - 1969
Brand: Shelby
Type: GT500 Fastback 428CI Cobra Jet Ram-Air V8
Year of manufacture: 1969
Colour: Competition Red paint / Black interior
Engine and power: 6997 CC / 428CI Cobra Jet Ram-Air V8 (matching numbers)
Fuel: Petrol
Transmission: Manual transmission
Odometer reading: 43,421 miles
Number of keys: 1
Margin: Yes, Dutch margin car
Documents / registration: Dutch registration and a valid Dutch periodic vehicle inspection (no expiry date as it is more than 50 years old).
VIN: 9F02R480592


OPTIONS: - Central armrest
- Chrome-plated front bumper
- Chrome-plated mirrors
- Chrome-plated rear bumper
- Dual exhaust
- Leather upholstery
- Leather seats
- Electrically adjustable mirrors
- Power steering
- Radio
- Revolution counter


ADDITIONAL COMMENT: - Registered in the Shelby register
- Folder with maintenance history included
- Marti Report included
- Dutch registration and valid Dutch technical vehicle inspection (APK)

Technische informatie:

Shelby - GT500 Fastback 428CI Cobra Jet Ram-Air V8 - 1969

Merk: Shelby
Type: GT500 Fastback 428CI Cobra Jet Ram-Air V8
Productiejaar: 1969
Kleur: Competition Red paint / Black interior
Motor en vermogen: 6997 CC / 428CI Cobra Jet Ram-Air V8 (matching numbers)
Brandstof: Benzine
Transmissie: Automaat
Afgelezen stand: 43421 miles
Aantal sleutels: 1
Marge: Ja, Nederlandse marge auto
Papieren / kenteken: Nederlands kenteken en geldige APK (zonder vervaldatum i.v.m. leeftijd 50 jaar>)
VIN: 9F02R480592


OPTIES: - Middenarmsteun
- Verchroomde voorbumper
- Verchroomde spiegels
- Verchroomde achterbumper
- Dubbele uitlaat
- Lederen bekleding
- Lederen zittingen
- Elektrisch verstelbare spiegels
- Stuurbekrachtiging
- Radio
- Toerenteller


EXTRA OPMERKING: - Ingeschreven in het Shelby register
- Map met onderhoud historie aanwezig
- Marti Report aanwezig
- Voorzien van Nederlands kenteken en geldige APK (technische) keuring


ClassicCarSharks advises that you read the terms of use of this platform, the description of the car and the inspection report carefully and view all the pictures and videos, before you make a bid. All bids are binding and irrevocable.